Dirty Deeds Mechanics Hand Soap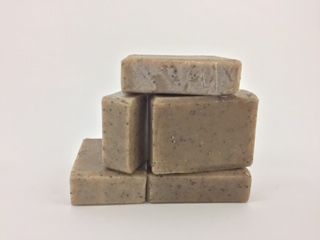 Dirty Deeds Mechanic Hand Soap
Full Bar:  4.50 oz. / 128 g - 100% Natural
Best friend for dirty, greasy, grimy, mechanics hands. Replace grease and grime with the gentleness of buttermilk.

Ingredients: Sunflower Oil, Palm Oil, Distilled Water, Palm Kernel Oil Flakes,*Sodium Hydroxide, Castor Oil, Buttermilk Powder, Cane Sugar, Sodium Lactate, Apricot Shells, Poppy Seeds, Green French Clay, Essential Oils: Lemon Eucalyptus, Clove, Lemon Myrtle, Lemon, Oregano, Thyme, Rosemary, Sage, Palmarosa, Lavender

*None remains after turning oils and butters into soap (saponifying)
To maintain soap freshness do not leave soap siting in water, allow soap to dry between uses
Always keep un-used soap in a dry place away from heat and sun
Product's image may differ slightly than actual product due to color and lighting during the photographic process.
Did you know - to get 1 pound of poppy seeds you need over 900,000 seeds.