Dirty Deeds Mechanics Hand Soap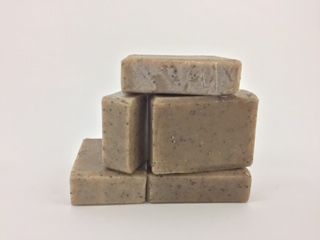 Dirty Deeds Mechanic Hand Soap
Full Bar $8.50 - 4.50 oz / 128 g - 100% Natural
Your best friend for dirty, greasy, grimy, mechanic's hands. Replace grease and grime with the gentleness of buttermilk.
Did you know:  To get 1 lb. of poppy seeds you need over 900,000 seeds.
*No sodium hydroxide remains after turning oils and butters into soap (saponifying)
To maintain soap freshness, do not leave soap sitting in water.
Allow soap to dry between uses
Always keep un-used soap in a dry place away from heat and sun
Ingredients:
 Sunflower Oil, Palm Oil, Distilled Water, Palm Kernel Oil Flakes, *Sodium Hydroxide, Castor Oil, Buttermilk Powder, Cane Sugar, Sodium Lactate, Apricot Shells, Poppy Seeds, Green French Clay, Essential Oils: Lemon Eucalyptus, Clove, Lemon Myrtle, Lemon, Oregano, Thyme, Rosemary, Sage, Palmarosa, Lavender