Face2Feet Soap Skin Goodness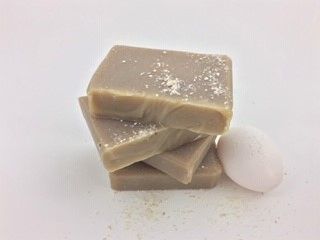 Face2Feet Soap Skin Goodness
Full Bar:  4.10 oz. / 116 g - 100% Natural - Unscented
Soothing Oatmeal and egg creaminess natural ways to pamper yourself from head to toe.

Ingredients: Olive Oil, Distilled Water, Coconut Oil,Palm Oil, * Sodium Hydroxide, Shea Butter, Fresh Eggs, Castor Oil, White Kaolin Clay Cocoa Butter, Sugar-Cane, Ground Oatmeal, Sodium Lactate, Rosemary Antioxidant, Tussah Silk 
Individuals with nut allergies may be sensitive to this soap
*None remains after turning oils and butters into soap (saponifying)
To maintain soap freshness do not leave soap siting in water, allow soap to dry between uses
Always keep un-used soap in a dry place away from heat and sun
Product's image may differ slightly than actual product due to color and lighting during the photographic process.
Did you know that - the Egyptians started using oats in skin care around 2000 BC. and oats were more known for it's healing properties for the skin than as a source of food.