Horsetail, Nettle & Hibiscus Hair Oil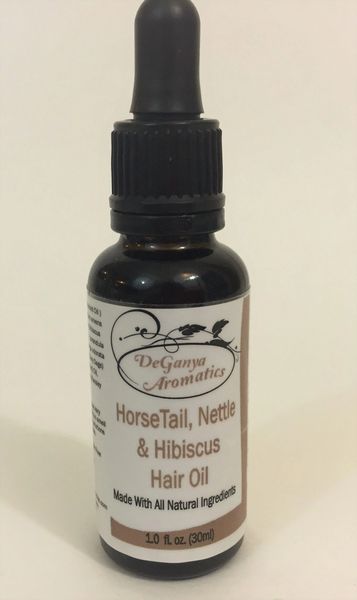 Our Horsetail, Nettle & Hibiscus Hair Oil is developed using herbs slowly infused in Apricot Oil which is high in oleic (omega-9 fatty acid) and linoleic (omega-6 fatty acid). Both are wonderful emollients which aid in the hair being softer and the stimulation of hair growth.
Horsetail is rich in silica acid. Silica is the natural constituent that contributes to the forming of collagen in skin and bones, which in turn aid in the strengthening of the hair

Nettle has been used for centuries as an aid for stimulating hair growth

       
100% Natural - 
Bottle with Dropper:
1 oz. /30 ML 
Ingredients: Apricot (Prunus armeniaca) **Nettle (Urtica dioica), *Horsetail (Equisetum arvens), * Hibiscus (Hibiscus sabdariffa) Flowers, Vitamin E (Tocopherol), Lavender (Lavandula angustifolia), Oil, Ylang Ylang (Cananga odorata) Oil, Clary Sage (Salvia sclarea) Oil, Cedarwood (Cedrus atlantica) Oil,  Parsley Seed (Petroselinum sativum / crispum) Oil

Never microwave.
Do not store in direct sunlight or near heat